Today is August 17, 2018 - 6 Elul 5778
Our 86th Year of Serving the Community
2989 Nostrand Avenue
Brooklyn, New York 11229
Phone: (718) 339-7755 · Fax: (718) 375-2271
email: info@madisonjc.org
Welcome to Madison Jewish Center
9Welcome to Madison Jewish Center, an egalitarian synagogue where women and men share ritual, social and administrative life. We are perfect for youthful needs with our Hebrew School, Junior Congregation and total integration in ALL of our many holidays, events and celebrations. The Sisterhood and Social Club are creative and fun for all. We have preserved our original 1933 shul, attached to our beautifully renovated ballroom and large sanctuary. New members receive special consideration and are made to feel at home in our warm congregation. Our Rabbi, Cantor and members of Madison JC welcome you to visit us personally or on the Web. Join our Madison Jewish Center family, participate and come grow with us. Shalom!
We are affiliated with the United Synagogue of Conservative Judaism. Give us a try. Check out the calendar, and the list of events, and choose those that appeal most to you. Scroll down this page for a preview of our activities. View our picture gallery to see photos of all our recent activities.
Follow us on Facebook.
https://www.facebook.com/pages/Madison-Jewish-Center/425386424159132
Click on the links below to get more information about all of the holidays and activities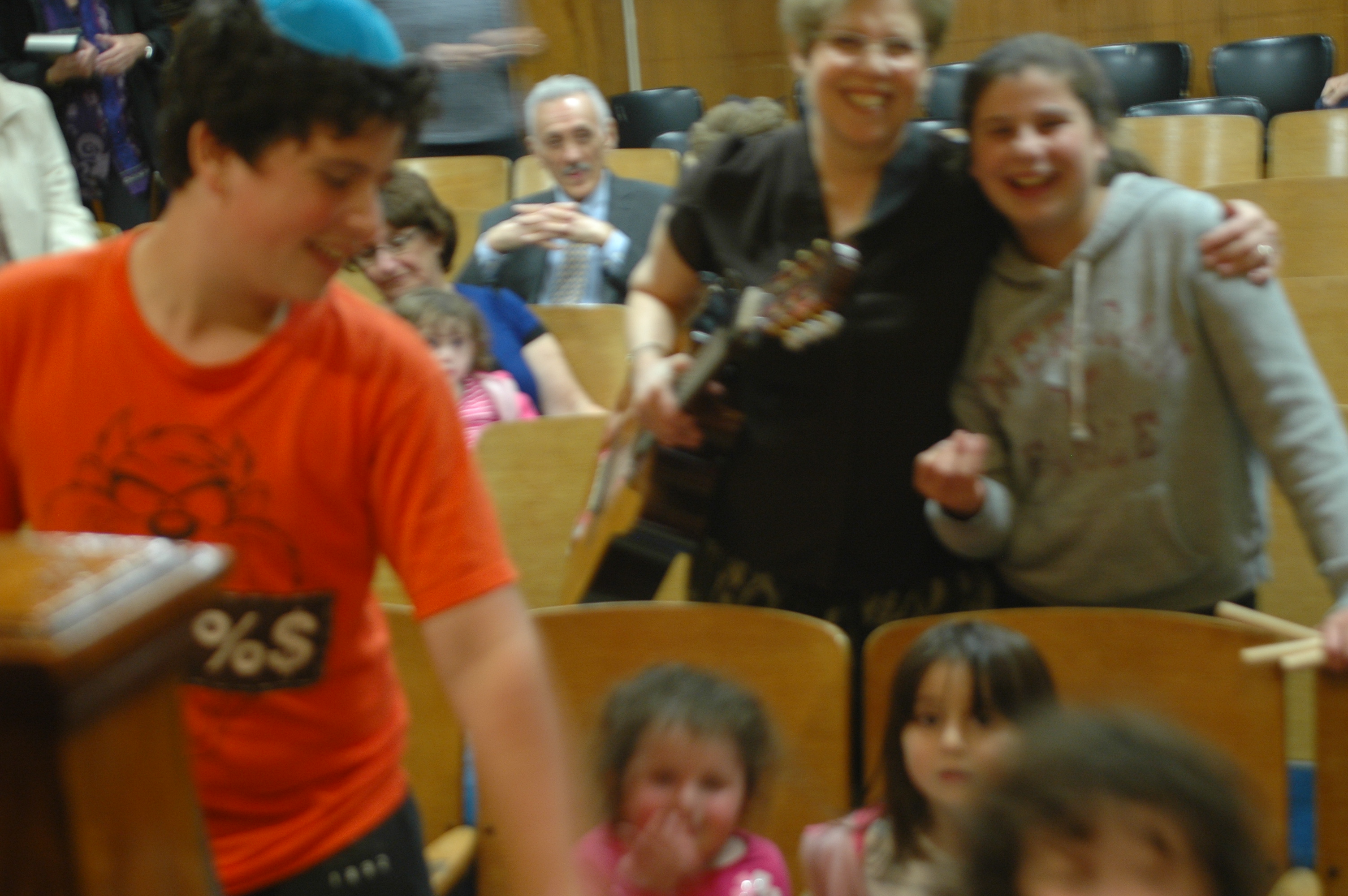 Spinning Dreidels
Friday, June 1, Hebrew School Graduation/Promotion at 7:00pm was followed by services and a dessert oneg.
Join us for services, and for all our other functions. See our calendar for future activities.
Check our Upcoming events pages for more MJC activities.
Looking for Luncheon Kiddush Fund and
Platinum

Fund co-Sponsors for the upcoming year, 2018-2019
Kiddush Fund Sponsors for 2017-2018
Irma and Roy Alexander
Monique and Richard Ander
Bunny and Brian Bender
Jodie and Matthew Cohen
Myra Lee and Albert Fleischman
Ellen Green
Ellen and Max Hamou
Terri and Joseph Harary
Randi and Bruce Herman
Marla and Matt Hesse
Beverly and Seymour Hoffnung
Ilene Karpas
Mady Kiner
Cecile Kops
Helen and Warren Leibowitz
Linda and Michael Parnes
Marlene and Paul Podell
Judy Posniack
Barbara and Barry Stein
Be a Kiddush Fund co – Sponsor – only $25.00 per month
Or a

Platinum

Kiddush Fund co-Sponsor for $50.00 per month. Ask about the discounted rate if you commit as a sponsor through June, 2019
See the videos of our Fashion Show that was held on Thursday, May 26 2017 (click on the link below)
See the photos of our Journal Dinner Dance that was held May 22, 2016! See the photos of our Journal Dinner Dance that was held June 14, 2015!
Click on the link below to see a copy of our 2015 Madison Jewish Center Journal. Please patronize our advertisers!
Click on the links below to see a video of our Sisterhood Fashion Show which was held Thursday evening, May 21, 2015:
https://www.youtube.com/watch?v=mxuSpEgOHy8
See the Calendar for more information
Purchase gift cards

to all your favorite stores through the Parents' Association.
Hebrew School Registration is now open. We are now offering a Gan class for 5, 6, and 7 year olds, and a pre-gan class for 3, and 4 year olds.